It's been 2 and a half weeks since the Knicks' season ended, and since we're pondering the universe's least pertinent questions, how have the 'Bockers been spending their time?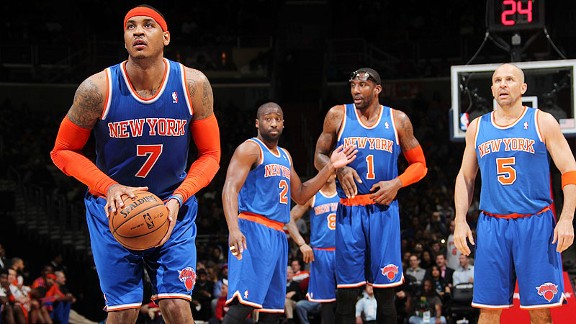 Don't see a ton of golf being played by this crew
(espn.go.com)
I am oddly curious/fascinated by the off the court lives of NBA guys, especially how they relate to the public eye and pop culture in general. Here's what some of the Knicks have been up to:
**For those not interested in the Knicks, scroll down to Iman Shumpert's section. I guarantee it has wide appeal
Chris Paul:
Certainly not taking the mantle from J Kidd as Knicks' cerebral floor general, despite it being a one-time possibility and current Knick fan delusion. As Frank Isola of the Daily News observed, the Knicks can barely afford Cliff Paul.
Amar'e Stoudemire:
Became a father yet again. Good for him and his wife. Will this new addition to team STAT ever see his pops on the court and learn first hand why he gets to wipe his tiny bottom with the Knicks' $100 bills? Who knows.
Related: how awesome is the exception in Smith's contract that he could have re-signed under, called the "Early Bird" exception. Amazingly, this was not the NBA being cute - it's a series of contract stipulations instituted after Larry Bird's contract set a certain precedent. It could just as soon be called the "Early Olajuwon" exception. I love that.
Carmelo Anthony:
Number 7 has been encouraging people via Twitter to donate to help the victims of the Oklahoma tornadoes. He has also been resting his torn labrum shoulder, turning 29, and apparently asking the Knicks to add another scoring option aside from J.R. Smith.
Nothing all that juicy or exciting from any of these guys, except for what Iman Shumpert's been up to, the real impetus for this post:
Iman Shumpert:
Starting his off-season workouts soon and eventually playing Summer League in Vegas, but not before he took a few days in Aruba to relax and unwind from the season...
How Funny is Iman's Video?
Iman Shumpert posted this video on Twitter and Vine, linked above via J.R. Smith's reaction. It's funny in and of itself, but is also well-timed with the recent mermaid hoax. I watched it on the bus home from work and had to stifle my laughter. It's not the butt of the joke that gets me, but Shump's reaction. Funny as I found it, though, it left me wondering: how funny is it really?
To my knowledge, no one else has mentioned it. This tells me that it's not all that funny. KFC at Barstool didn't even blog about it; I thought he'd be a lock because it involves NY athletes and girls' butts, two areas in which I'm sure he considers himself an expert. I follow probably 5 Knicks beat writers on Twitters, and didn't see one tweet reacting to this.
I think it's hilarious because, despite the subject matter, it's not all that creepy or arrogant. He doesn't seem to be above the common guy, marveling at the "mermaid", even though his relationship with her probably far exceeds "marveling at". This new video app Vine, which plugs into Twitter, gives athletes a new way to interact with their followers. It also opens up a whole new way for athletes to get into trouble...just wait. With this one, though, Iman nailed it, and hopefully the mermaid & Aruba were just what he needed to have some fun before getting started on a productive summer.