Believe it or not this was a real thought in my head.
It seems to me that getting an invite to a bachelor party is a lot like getting a bid to the NCAA tournament. There are a number of ways to get in, but once you're in, anything can happen. Anyone can achieve a One Shining Moment, but anyone can get knocked off early if not careful. Ultimately, the best mantra to adopt is that of Jim Valvano's miracle run in '84: Survive and advance.
1-4 Seeds
These are the major conference champs and the major conference powers that didn't win their conference. Most of these bids have been locked up since college, high school, maybe even childhood. The invite is a mere formality, and expectations are sky high. Anything but a Final Four run is considered a disappointment, and some will make it all the way there while some will make early exits.
5-6 Seeds
Stereotypical underachievers. You'd think they would be higher, but their track record just hasn't convinced the committee. Maybe it's the annoying friend from the group. Maybe it's the friend that's fallen out of touch after high school, but you still want around. UCLA has been dancing on this line for years. They're the childhood friend who is kind of out of the mix now. You think they should be relevant based on name alone, but they bring no heart or energy anymore. These guys have a lot to prove to convince everyone that they're not as mediocre as has been advertised. Unfortunately, they often are.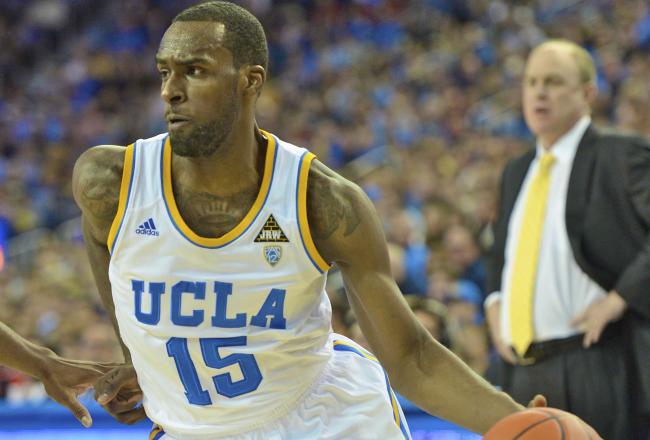 UCLA is the childhood friend you rarely hear from anymore.
(http://img.bleacherreport.net/img/images/photos/002/187/496/uspw_7103344_crop_exact.jpg?w=650&h=440&q=75)
7-12 Seeds
This is by far the most interesting grouping of seeds. These are your at large bids. Could be your home friend's college buddy. Could be a college buddy's home friend. Could be a home friend's college buddy's brother's co-worker. Who is to say? Sometimes, you don't even know who these guys are. Kind of like "where the hell is Butler?!". Chances are the initial bid came in the hazy wee hours of the morning, but they either had to the stick-to-it-iveness to make sure that invite was solid, or they were just hilarious enough to make the committee follow up with them. However they made it, whoever they are, they're here and they plan on making the most of it. These plucky upstarts have the least to lose, and the most to gain. By the time all is said and done, one of these guys could be a household name.
13-16 Seeds
These are the weaker conference champs automatic bids. The very fact they're invited is like a championship unto itself for these boys. Might be the cousin you're not that close with. Could be the bride's brothers that no one knows that well. Chances are the committee groans at this rule that's in place that automatically sends a bid their way. If the bachelor party was a weekend at a college football game down south or 4 days in Costa Rica, these invites would've never occurred, but since it's a field of 68, these guys are in.
Alan was like a 13 seed who ended up making a deep run. The LaSalle Explorers of The Hangover.
(http://cheesesteakswithbarkley.files.wordpress.com/2011/05/alan-hangover2.jpg)
I know what you're thinking: "but I love Florida Gulf Coast! They're a 15 seed...how do they fit in?" Glad you asked. Florida Gulf Coast is the cool younger cousin who you're pretty sure is 19, but he's been getting in to every bar and is actually having better luck with girls than most of the other guys. You have to assume his luck will run out eventually, but it's been fun to be around.
Play-in games
Play-in games are held between the lowest automatic qualifier from the lowest leagues and a strong at large that might not be able to make it. The Groom's Mom's friend's son squares off against the groom's college buddy who now lives in Europe. If the college buddy can't make it because of logistical reasons, this other guy gets in as a 16 without a prayer of making a dent in the tourney.
That's how you get invited. Once you're in the dance, anything can happen if you dance the night away.